Jenna Gargles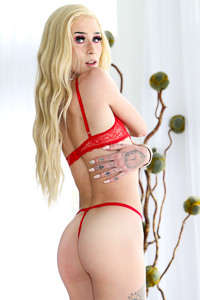 Videos with Jenna Gargles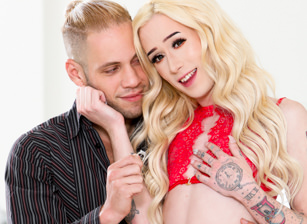 Date added:
2020-09-29
Views:
0
Rating:
Description :
Jenna Gargles has been with her amazing boyfriend, Wolf Hudson, for a year now. She's feeling pressure from her mom to get married but she's not sure if Wolf is ready to take the next step -- even if SHE is.After yet another distressing phone call with her mom, Wolf comforts her and they talk about the idea of being married one day. Although Wolf seems to be tentatively on board with the idea, Jenna doesn't dare get her hopes up... until he suddenly pulls a small box from his pocket! Overjoyed, Jenna surges forward and crushes their lips together...Now it's time to celebrate the first day of their new lives together!
Categories :
Anal
,
Blowjob
,
Blonde
,
Trans
,
Open Mouth Facial
,
Tattoo & Piercing
,
Stockings
,
Rimming
,
Handjob
,
Caucasian
,
Small Tits
,
Male Fucks Trans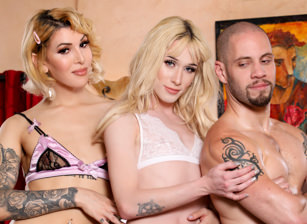 Date added:
2020-07-15
Views:
0
Rating:
Description :
Mr. Hudson gets his wildest fantasy fulfilled as his hot trans girlfriend brings home another trans girl for them both to share for an early birthday present. The lovely Ryder Monroe is waiting in his bed for him and he soon finds his swollen cock buried in her mouth. Jenna is packing quite the cock herself and the two of them make some trans magic as Ryder rides Jenna's cock as Wolf stuffs Jenna. And vice versa. Wolf is not going to be left out of this anal pleasure as he soon finds himself in the middle of the sandwich as Jenna rams his backdoor with her stiff massive woman root and wolf pummels Ryder's pussy hole. Cum is shooting everywhere as Jenna and Wolf spew their appreciation for Ryder all over the place.
Categories :
Anal
,
Threesome
,
Blowjob
,
Ass to mouth
,
Blonde
,
Trans
,
Tits Cumshots
,
Double Blowjob
,
Cumshot
,
Rimming
,
HD Porn
,
Transgender
,
Small Tits
,
Lingerie
,
Trans Fucks Male
,
Male Fucks Trans
,
Trans Fucks Trans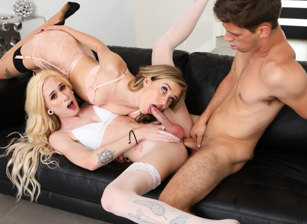 Date added:
2019-09-26
Views:
0
Rating:
Description :
Haley Reed is going on a hot date and tells her roommate Jenna Gargles to not bring people back as she is hoping for a night of hot sex. Little does she realize her date is into trans women and gets really turned on when he meets Jenna her trans roommate. Immediately Jenna is invited in for menage a trans and they get down to some serious fucking as the well hung stud fucks both girls. Of course, Jenna is packing a monster cock herself and lays it down quite well on her roommate. Happy as can be in cock heaven Haley is orgasming all over the place and soon watches her trans roommate squirt her hot jizz all over. Both girls are rewarded with a heaping load of man juice as Micheal Del Ray busts his nut all over their faces. Now that was a date that paid off.
Categories :
Anal
,
Deepthroat
,
Facial
,
Threesome
,
Blowjob
,
Big Dick
,
Blonde
,
Condom
,
Trans
,
Tattoo & Piercing
,
Cumshot
,
Cunilingus
,
Fingering
,
Caucasian
,
Small Tits
,
Male Fucks Trans
,
Trans Fucks Female