Jessy Bells
Videos with Jessy Bells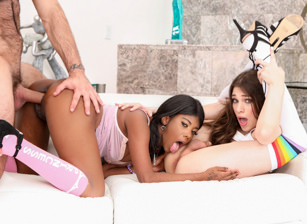 Date added:
2019-02-28
Views:
0
Rating:
Description :
Daizy Cooper has really landed a great man to take care of her. Ricky Larkin loves banging the young girl and hanging out with all of her friends. In fact he has been dying to meet one of her friends from her high school days. A young trans girl named Jessy Bells. So to say he is excited about her coming down is putting it mildly. Jessy shows up and is immediately having a blast with the wild swinging couple. It doesn't take too long before his big cock is out and swinging for both girls to suck. Slurping away and sharing that cock is just like the old days for these two. Ricky lays down the pipe deep in their love holes and rewards them with a nice dollop of man juice. Ahhh what an afternoon. And just think, she will be spending the whole weekend with them.
Categories :
Ebony
,
Interracial
,
Hardcore
,
Natural tits
,
Anal
,
Deepthroat
,
Threesome
,
Blowjob
,
Big Dick
,
Brunette
,
Condom
,
Trans
,
Ass
,
Double Blowjob
,
Cumshot
,
Black
,
Cunilingus
,
Fingering
,
Rimming
,
HD Porn
,
FaceSitting
,
Small Tits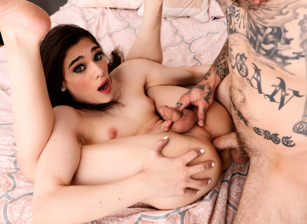 Date added:
2019-01-05
Views:
0
Rating:
Description :
Nominated - Best Transgender One-on-One Sex Scene: Jessy Bells & Ruckus, AVN 2020
Jessy Bells has been involved in a long distance relationship with her recent boyfriend she met while he visited the bay area. Not getting along with the home front she decides to just show up on his doorstep and see what happens. Turns out this guy really does want to live with her and they make hot passionate love in his bedroom.
Categories :
Hardcore
,
Anal
,
Deepthroat
,
Blowjob
,
Big Dick
,
College
,
Cum swallow
,
Brunette
,
Condom
,
Trans
,
Tattoo & Piercing
,
Ass
,
Cumshot
,
Rimming
,
HD Porn
,
Gaping
,
Handjob
,
Caucasian
,
Small Tits
,
Male Fucks Trans